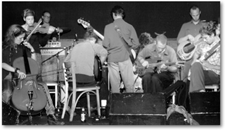 Deve ser um dos nomes mais compridos que já se deu a uma banda (só deve ser ultrapassado pelos "And you will know us by the trail of dead" ). São 9 (ou 10?) tipos(as), canadianos de Montreal, e não usam voz nas suas composições.
Ainda não tinha metido nenhuma música deles ali ao lado, no radio.blog, por um motivo simples: practicamente todas têm mais de 15 minutos.
Do meu álbum favorito dos
GY!BE
, o
Yanque U.X.O
. de 2002, há uma música em particular que me arrepia. A
Rockets Fall On Rockets Falls
, de apenas 20 minutos e 42 segundos é uma das coisas mais fantásticas de que tenho memória de ouvir.
Uma review de 1998, da NME dizia o seguinte
Anyone frightened by glockenspiels should turn away now. godspeed you black emperor! are a marvellous (mostly instrumental) ten-piece band from montreal, featuring twin percussionists, three guitarists, cello, violin and glockenspiel players and – inevitably – a man making strange sucking noises with a tape recorder. and some bagpipes.

Stranger still, the end result of this frankly ludicrous musical setup is not an avant garde big country record in moose antlers, but an album of soothing, repetitious beauty.

Anyway, godpseed's debut album is a genuine classic, which will remind you of either mogwai soundtracking spaghetti westerns or the dirty three in a freezer factory. in the space of three tracks stretched over 60 minutes, we're treated to an ever-shifting collage of spiralling violins, echoing guitars, air-raid sirens, a brass section, distressed wasps, an occasional glockenspiel solo and some wilfully apocalyptic samples along the lines of, "the car's on fire and there's no driver at the wheel". well, quite.

E por causa disso, achei que merecia estar mesmo ali de lado para que vocês também possam ouvir….
Godspeed You! Black Emperor

(

GY!BE

) – Rockets fall on Rocket Falls [20:42]